Heating Repair Services in Houston, TX
Harris County Furnace & Heating Services Near You
Houston winters can be mild, but frigid, and you need a reliable and affordable way to keep your home or business warm and comfortable. If your old furnace or heater breaks down or needs to be replaced, it can be hazardous to go without heat. That's where Air Star Now comes in. As your AC & Heating Specialists for furnace and heater repairs, we're dedicated to providing high quality with a personal touch to keep your home or business warm and safe. At Air Star Now, we stand behind our work and offer a satisfaction guarantee.
We offer the following services:
Heating Repair
Heating Replacement & Installation
Boiler Services
Radiant Heating Services
Furnace Repair
Furnace Installation & Replacement
Furnace Maintenance
To get the most out of your heating system, it's essential to understand how it works. A furnace is a piece of HVAC equipment that distributes heat throughout your home or business by circulating conditioned air through your residence or building. When your home starts to cool down, your thermostat sends a signal to your furnace to start heating your home. The furnace ignites the gas in a heat exchanger and transfers the heat from the burning gas to the air passing over it. The blower fan then pushes the warmed air throughout your home or business until your target temperature is reached. Once your desired temperature is reached, your thermostat turns off the gas valve and stops the flow of warm air.
Don't settle for just any HVAC Contractor for your furnace and heater repairs. Contact us now at 713-597-4457 to get started.
Schedule Service Fix Your Furnace
5-Star Reviews From Happy Clients
"Will definitely recommend this company to everyone who has a/c issues. They are awesome and the price is really fair."

- Katherine C.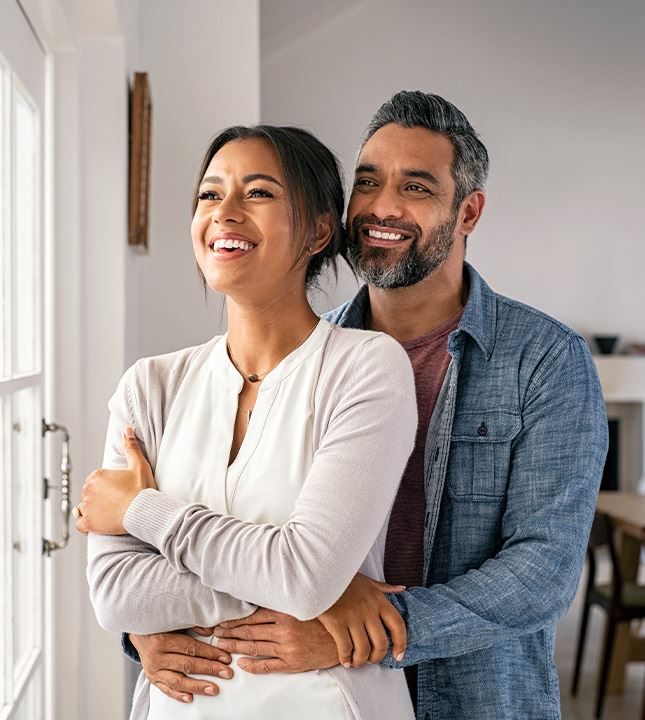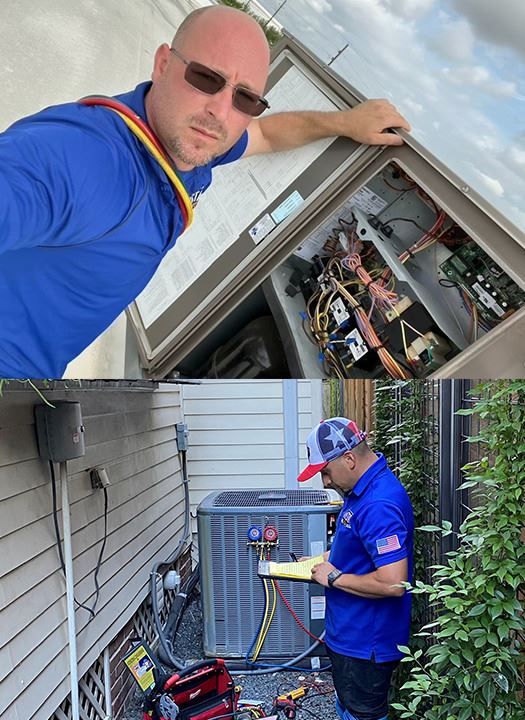 At Air Star Now, we employ trained and experienced technicians who are skilled in diagnosing and repairing a wide range of heating problems, from minor issues to major breakdowns. Some of the common problems that heating repair services can help with include:
Thermostat problems: If your thermostat isn't working correctly, it can prevent your heating system from turning on or functioning correctly. A heating repair technician can diagnose and fix issues with your thermostat, ensuring that your heating system operates efficiently.
Clogged air filters: Dirty or clogged air filters can prevent warm air from flowing into your home or business, resulting in reduced comfort levels and higher energy bills. A heating repair technician can clean or replace your air filters to keep your system running smoothly.
Ignition problems: If your heating system won't turn on or stay on, it may be due to an ignition problem. A heating repair technician can diagnose and fix issues with your ignition system, ensuring that your system operates safely and efficiently.
Pilot light issues: If your furnace has a pilot light, it may occasionally go out, preventing your heating system from working correctly. A heating repair technician can relight your pilot light and ensure that it stays lit, keeping your system running smoothly.
Blower motor problems: The blower motor is responsible for distributing warm air throughout your home or business. If your blower motor is faulty, it can prevent warm air from flowing correctly, leading to reduced comfort levels and higher energy bills. A heating repair technician can diagnose and fix issues with your blower motor, ensuring that your system operates efficiently.
Furnace FAQs Frequently Asked Questions
Your CSR referenced a no heat call. What is that?

A no heat call is an industry term referring to a customer with a complete lack of heating power. Their furnace, boiler, or heater has gone inoperable for one reason or another. Because these scenarios can be life and death, especially in Houston's summers, we prioritize these appointments on our schedules.

How Much Does a New Furnace Cost?

The cost of a furnace installation is dependent on several factors including the type of furnace being installed, how much extra work is involved, and how large of a furnace you've chosen. Your home may also have two units which may raise the cost of a furnace replacement in Houston.

How Can I Reduce My Heating Bills?

The home heating bill is one of the biggest expenses for households in the Houston and Houston area. You can help lower it by changing your filter and completing your required annual maintenance. Alternatively, you can turn your thermostat down to 68°F instead of 70°F or 72°F (20°C instead of 21°C or 22°C). To save the most money, however, consider installing a new furnace. As technology advances, furnaces have become more fuel-friendly.

What Do I Do if My Heat Goes Out?

First, go through the below checklist before calling us to make sure it's not something simple:

Is power getting to your furnace or heater? Is a fuse or circuit breaker tripped? Make sure your power switch is in the ON position.
When was the last time you swapped out your filter? If it's been a while, try installing a new filter first. This can solve a lot of heating problems.
Verify your thermostat is set to "heat" and not "cool." If you notice the display is dim, try swapping out the batteries on the back of the unit.
Is there snow or other debris blocking your outdoor vent? Remove the obstruction if so. This will allow your system to work more effectively.

If you still don't have heat, it's time to contact Houston's favorite furnace repair experts at (713) 597-4457.

What Brands of Furnaces and Heating Products does Air Star Now Work With?

Our heating experts work with all brands of HVAC equipment including Coleman, Carrier, Bryant, Payne, Trane, Lennox, Rheem, Ruud, Amana, Daikin, Mitsubishi, Fujitsu, Crown, Frigidaire, Gibson, Goodman, Lochinvar, Maytag, Weil McLain, AO Smith, Kohler, American Standard, GeoExcel, General, Aprilaire, Honeywell, White Rodgers, Dynamic, and Skuttle.

How Often Should I Replace my Furnace Filter?

A key part of maintaining your heating system's performance and efficiency is regularly changing the air filter. If you have a standard 1-inch filter, changing it once-a-month is advised. For 4-inch filters, meanwhile, manufacturers recommend waiting six to nine months between replacement. If you have shedding pets in your household, check more frequently. The best way to tell if it's time for a new one is to look at it. If it's more gray than white, it's likely time to swap it out.

Do I Really Need Furnace Maintenance in Houston?

We suggest having your heater or furnace examined on a yearly basis. Due to seasonal stresses, it's best to schedule this heating tune-up in autumn, right before the first frost. A lot of heating failures occur because this vital part of homeownership is ignored in favor of a 'fingers-crossed' approach. During your inspection, our HVAC expert will look for signs of damage. They will also clean any dust away and test electrical components. From improved efficiency to manufacturer warranty requirements, there's few better ways to protect your heating system.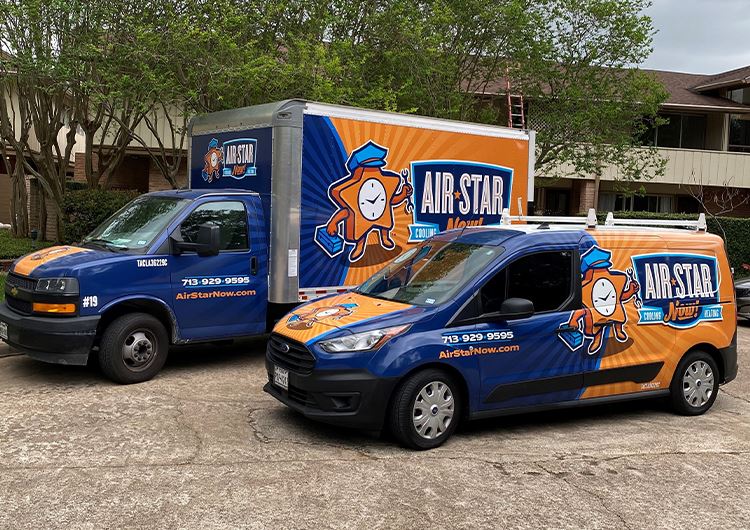 What to Look For in a Heating Contractor
Your heating system is a major component of your home's comfort systems. It represents not only safety in winter but also a substantial investment. That's why it's vital that you select the right person to repair and maintain your furnace, boiler, or heat pump. Here in Houston, there are plenty of HVAC companies to choose from. The below five characteristics, however, are what separate the pros from more questionable heating contractors:
Current Insurance and Licensing: Texas only licenses contractors who meet certain training and skill requirements. The presence of a valid license is the best sign of a qualified HVAC contractor. To see if a potential HVAC company has one, check out their website. You'll find ours at the bottom of our site, for instance. If you cannot find a license number, call the company and ask for it. If they cannot provide it, go with a different company.
Comprehensive Insurance: What happens if a heating technician makes a mistake while working on your boiler and floods your home? Do you know who pays medical bills if that same person hurts themselves on your property? These two scenarios are why it's vital that your chosen heating company carries up-to-date insurance. This is something we provide to ensure your peace of mind.
Glowing Reviews: Visit their online review profiles. What do former clients say about them? Do you know anyone who has used them before? If so, ask if they'd refer them for heating repair or installation work in Houston. If they have a few negative reviews, don't write them off. What matters most is how they handled the situation and if they responded in a professional, empathetic manner.
Experience and Expertise: When it comes to heating service in Houston or Houston, experience should top your list of requirements. The more years of experience an HVAC contractor or company has, the better able they are to quickly pinpoint what's wrong with your heating system. They also tend to be more adaptable and come carrying the right equipment and parts.
5. Warranties and Guarantees: Things can go wrong with even the newest heating or cooling system. Repairs can fail and parts can arrive defective. That's why it's vital to choose a heating company with a comprehensive warranty and guarantee policy. At minimum, your satisfaction should be acknowledged.Special Offers and Rebates: Check out what kinds of deals the company is offering. Does it align with your current heating needs? If so, print off the coupons and keep them on hand. You can check out our special offers page for discounts.
And, as you might guess, we possess all five characteristics in spades. Reach out to us at (713) 597-4457 to schedule heating service in Houston or Katy.
Call Air Star Now for Professional Heating Service in Houston and Houston
Air Star Now sets itself apart from other heating contractors in the Houston area. The first way we do this is by committing ourselves wholly to ensuring you are happy. We're so confident in our ability to make you smile that we guarantee your satisfaction. From proper system performance to quality workmanship, we hold ourselves to a higher standard. If you ever find yourself disappointed, reach out to (713) 597-4457. We'll do everything we can to rectify the situation.
So, the next time you need heating service in Houston or Katy, Air Star Now is here for you. From furnace repair to new heater installations, we have the skills you need. Dial (713) 597-4457 to get scheduled and to join our family of happy customers.